ONLY KNOWN ROLL OF TICKETS FROM WORLD'S COLUMBIAN EXPOSITION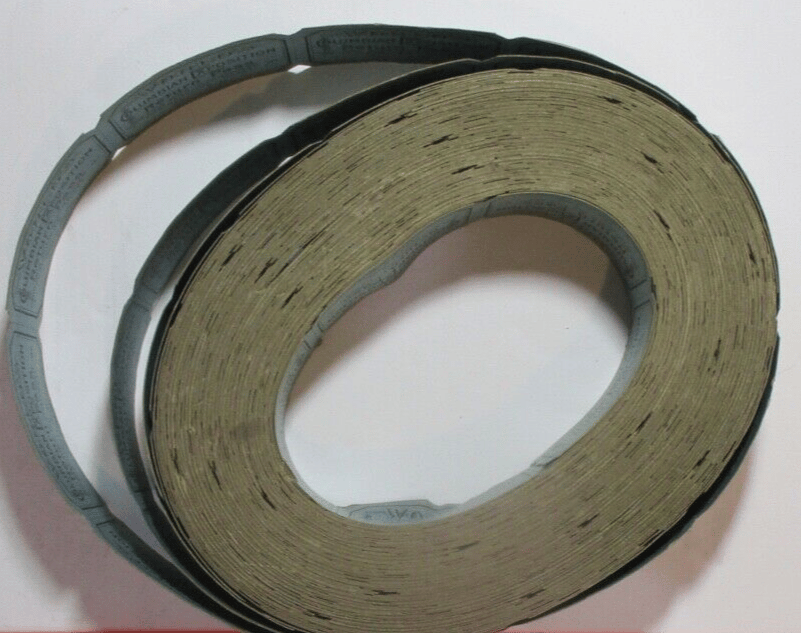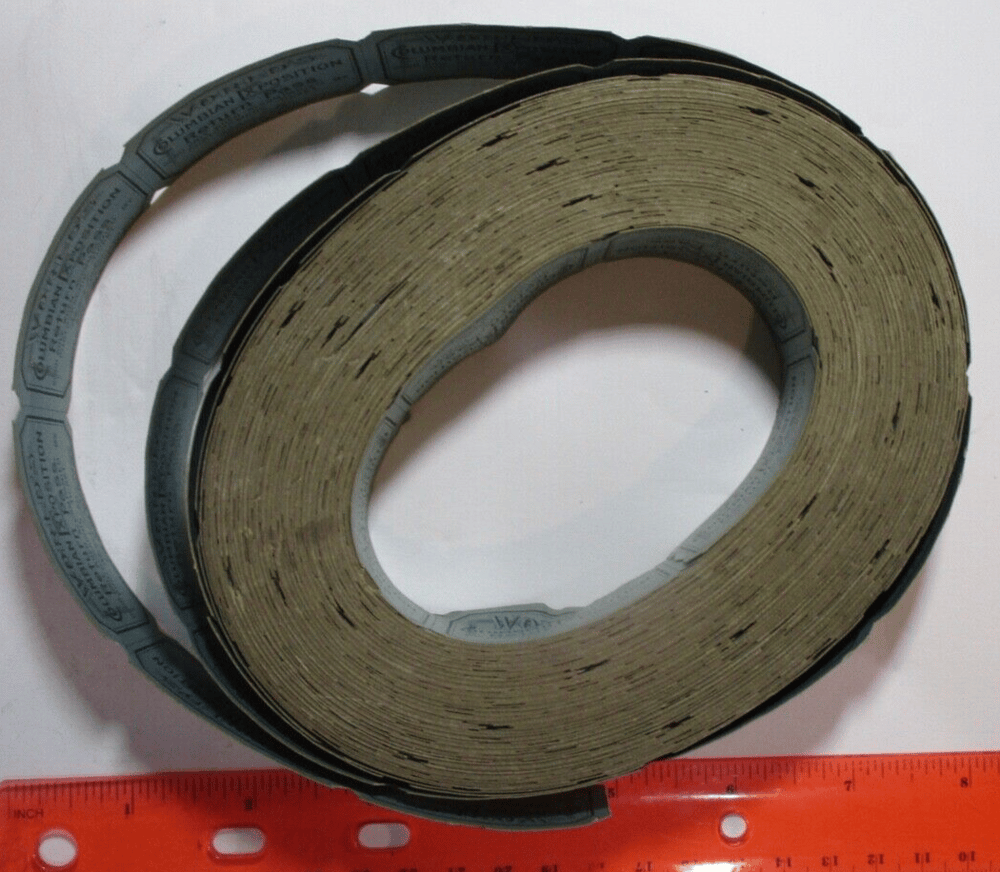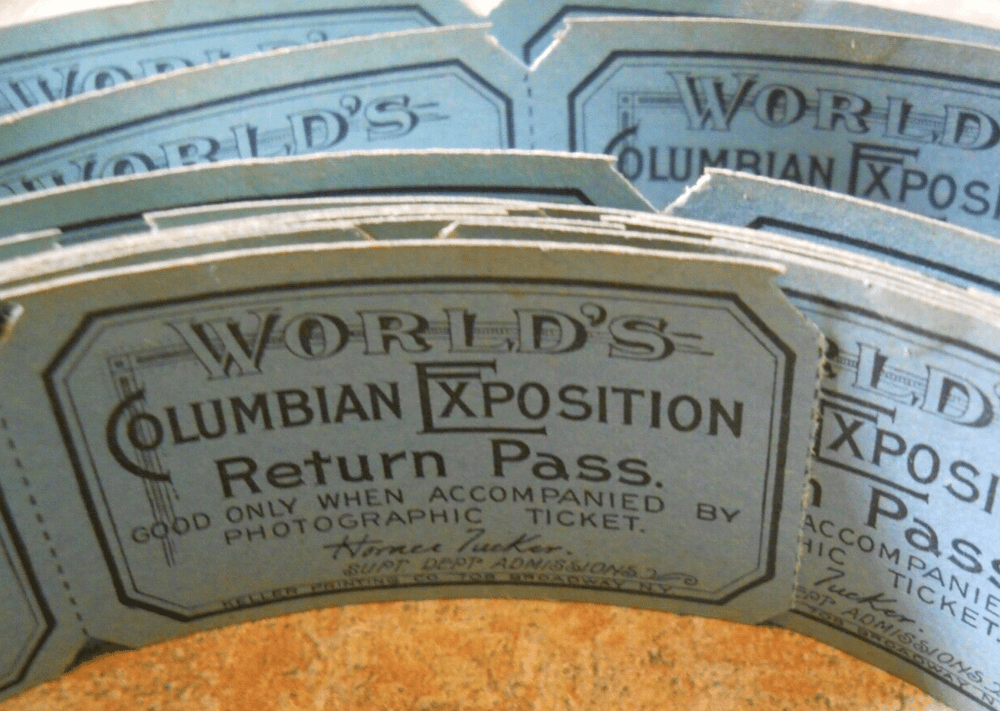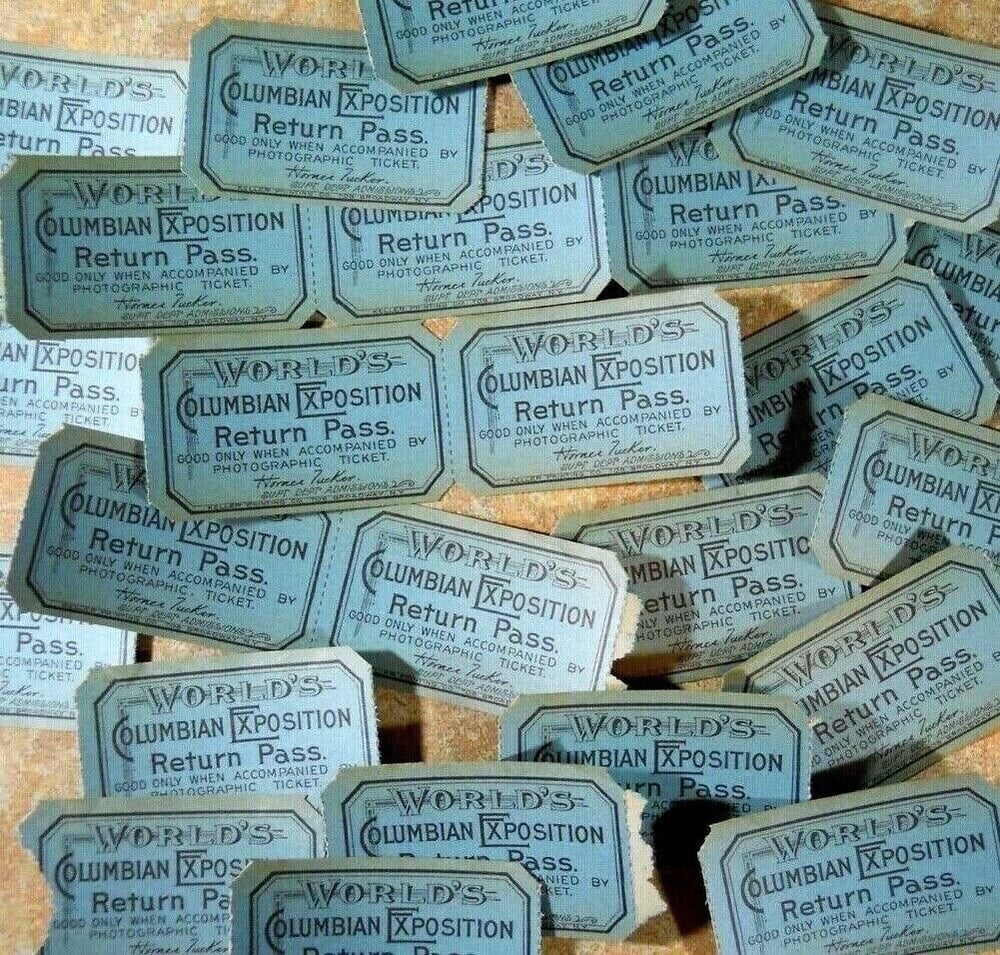 PLEASE NOTE: This roll is being listed simultaneously for sale on Ebay for $2500. And transactions there cost me a rather hard-to-swallow cost of business—about 15% in total fees! Therefore you have an excellent opportunity here to purchase the roll for $2125, 15% less than on Ebay.
TEXT IDENTICAL TO THAT POSTED ON EBAY AUGUST 16.
After about 10-15 years of selling these return pass tickets one at a time, in pairs and in strips of several tickets, I have decided to offer this unique one-of-a-kind roll of tickets for sale.
I purchased the roll estimated at anywhere from 3,500 to 5,000 tickets for $5,500.
That may have been a bit of a high estimate of the number of tickets looking back on it now, but still, my best guess is that TODAY around 1,500 or more tickets remain.
As most of you on Ebay know, I have collected—and sold—Columbiana for more than 40 years. I have always been particularly enamored of MOST ANY TICKETS and when I purchased this roll it was the center of my own personal Columbian ticket collection. In 2008 I sold my ticket collection (not including the roll) via Heritage Auctions; the collection of about 300 tickets brought $40,000 at that auction, including the most expensive single Columbian ticket ever sold—the only known Camera Obscura ticket, for the Midway concession that while listed in many expo guides, never actually opened for business. That ticket sold for $3,000. Another has never been discovered.
Many of the tickets from my collection and the huge WCE collection of the late John Kennel will be featured in my next WCE book, COLUMBIAN RARITIES.
If the roll does not sell, I will still sell strips of tickets, including larger ones than I have been selling (I pretty much have stopped at offering strips of 5 tickets). For example, if you have interest in connected strips of 10—25—or more please contact me.
Over the years I have considered offers for this roll, generally when it was still substantially larger, which I deemed inadequate. If the roll doesn't sell here, I am also considering other opportunities including donating the roll to a Chicago museum. I have worked with several museums over the years I have studied, researched and written about the WCE in articles, my own editorial blog and my three Columbian history books (including the nearly complete third one).
PLEASE DO CONTACT ME WITH ANY QUESTIONS. Please note that the shipping charge includes insurance for the full sales amount.